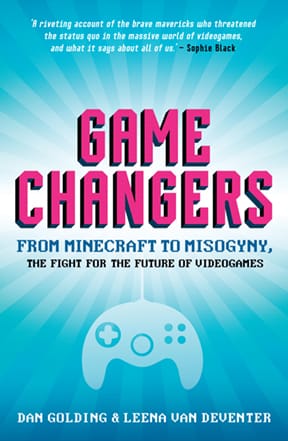 In 2016, I co-authored my first book: Game Changers: From Minecraft to Misogyny, the Fight for the Future of Videogames (Affirm Press, 2016) with Leena van Deventer.
The Australian: "an essential read for anyone who engages with video games. It is a strong indictment of a poisonous, misogynistic culture that has no place in the modern world."
FatDuckTech: "If you're interested in the topic, or even just a little confused about where it is and where it seems to be going, this is a highly recommended read."
Sophie Black, head of programming at The Wheeler Centre: "A riveting account of the brave mavericks who threatened the status quo in the massive world of videogames, and what it says about all of us."
---
I'm also a freelance journalist and arts critic of many years, specialising in videogames, music, and film. I've written extensively on videogames, film, music and cultural policy.
I am currently a contributing editor at Metro Magazine. I also regularly contribute features on film for Gizmodo Australia, many of which have been syndicated. Some highlights:
In the past, the major outlets I've written for for extended periods of time include:
For my writing, I won the 'Best Games Journalist' award at the 11th Annual IT Journalism 'Lizzie' awards in 2013.
I've also been published at BuzzFeed, The Guardian, Meanjin, The Walkley Magazine, Screen Education, The Conversation, The Australian, Kotaku and PC PowerPlay over the years.
My writing has been cited by TIME Magazine, The New York Times, Slate, Salon, Buzzfeed, and The New Statesman.
---
I have a highly-infrequently updated archive of my writing here – the last time I updated it was 2013, so if you're looking for something specific that's more recent contact me.